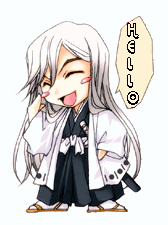 Ukitake say's "Welcome!
Hello! I'm Carley and this is my profile. Before we get into the 'About Me' segment, we must talk rules.
1. I DON'T do requests. period, no questions.
2. Please no chain/spam mail. I don't like it and I don't think it works.
3. Don't hate on my Fandoms and I won't hate on yours.
4. Keep hurtful commnets to yourself. If you don't want to be hated-ed on, don't hate on me.
5. Respect others who comment on my page.


About ME


Name: Carley

Age: 14

Hair: Brown

Eye: Blue-Green

Skin: Ivory


Hobbies: Reading, Writing, Fangirl-ing, Drama Club, Making Icons, Blogging.

Books: The Lovely Bones, The Spies of Warsaw, Harry Potter, Twilight, The Host, The Nightwalkers Series, Jane Austen, Pictures of Dorian Grey, Shakespeare, The Vampire Diaries, Vampire Kisses Series, Atonment, Nicolas Sparks.

Manga: Bleach, Pichi Pichi Pitch! Mermaid Melody, Vampire Knight, Blood+, Death Note, Axis Powers: Hetalia, Darker than Black, Junjou Romantica, FMA, Fruits Basket, Trinity Blood.