Hi there!
Mostly, I use GG for graphics to put on my Multiply backgrounds / themes... and for messages & blogs.
Recently I joined Twitter, for now, I'm using GG graphics for my background there. But I'm looking to personalize it a little more.
Some graphics I use on Multiply, I may have converted it to a seamless tile to make it look better... However, I NEVER... EVER claim that the graphics are my own! I'm working on a site or some way that I can link directly back to GG. When I accomplish that, I will be sure to credit whomever I need when I use their work.
The majority of my readers know that GG is my preferred site to find graphics.
(Sorry for the over use of the word "graphic" in this.)
You can usually find me on my site at: ladyharley.multiply.com
Or you can follow me on Twitter at: twitter.com/ladyharley99
Have a great day!!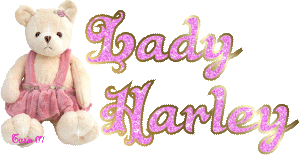 This was made for me by Tara (phantomphan0417) she's in my contacts below. :)
Thanks to all who are making me such WONDERFUL items!!! :)