Hmm... What is there to say?


I'm a computer programmer/web designer. I

computers. I've had a passion for computers since I was 11. My family had just started homeschooling when Intel sent my family a package. It surprised all of us, especially since my parents didn't know about it either. Inside were all sorts of electric devices and a video that explained the inner workings of computers. My eyes lit up like the night sky on the 4th of July. C++, VB, HTML, Flash, Photoshop. What a way to portray your inner designer! It's sheer artistic bliss.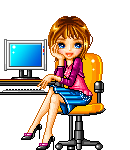 I also do modeling on the side and have been doing so for a couple of years. Modeling is fun because you can choose when you work and the pay is good. Plus, there's always the possiblity of travel. There are so many places I'd like to go. If all goes well, I'll be going to Brazil at the end of this summer. Yeah!


Likes
Chocolate


Strawberries


Photography


Drawing
Pixelated graphics
Animals



The Beach


Lounging in the pool


Listening to music


Learning about different cultures









Music

I have very eclectic taste when it comes to music but I'm not very fond of most rap or country.
________________________________________________
_____________________




_________________
_____




________




________________
_____




_________



_________________
_______



_________



_________________
______



__________



_________________
________



________



_________________
_________



______



__________________
_______













__________
______















______
_____
















_____
____

















____
__


















___
____
















______
_____













____________
________________________________________________