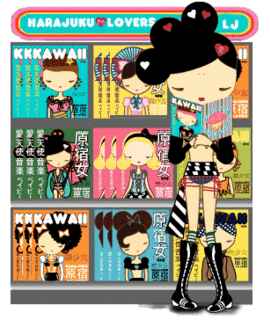 Hi everyone, I hope you enjoy this page. First of all, my real name is: Claudia I have many alias such as: mochi-chan, morbidangel, or claudlili. But, now I like calling myself mochi-chan.
I'm currently engage with my bestfriend. We have been together like 7 years or so. Now I'm living with him. Which I feel very fortunate to be with him every single day.
I currently own a company that is based on kawaii graphics, downloads and more. If you cared to have a look go here: http://kawaii-inc.org
I don't smoke, I love to drink "light" beers. I love wine. I'm a square... I get easily annoyed. I'm a jealous type. I love to be alone. I love to window shop. I love gyaru. I'm a <i>wannabe</i> website designer. I love rainbows, cupcakes, and pink stuff. My favorite food is sushi rolls. I love to cook. Is my passion. I love to sew, and make cute jewelry for myself. Anime and japanese culture is my weakness. I love japanese girls. I'm a internet junkie.
I also love to collect anime figurines, hellokitty, sanrio characters, cute japanese stuff and more. I love fashion, mostly the japanese fashion strigues me. And makes me smile when I see it. Also, I love to browse the internet and make cute graphics for people. So, I enjoy this kawaii (cute) page and remember to check out the cute graphics I offer on this page! BYE!! ^w^