Death The Kid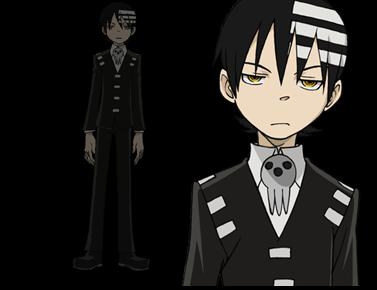 He is Patty and Liz's meister and the Shinigami's son. He is called Kidd by his friends and family. He is completely obsessed about everything being symmetrical and takes the idea of perfection to the extremes, which seems to indicate that he has obsessive-compulsive disorder. To him, anything symmetrical is beautiful and if it is off by any measurement, he will try to correct it right away, even if the situation calls for utmost attention.
Soul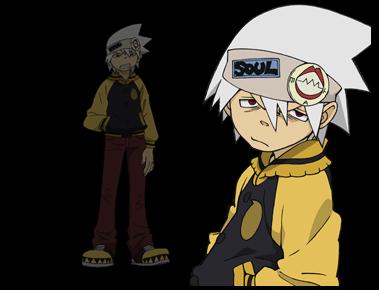 Soul Eater, "Soul" to his friends, is Maka's Demon Scythe partner;He acts like a normal teenager. His personality mostly consist of what he considers "cool". Being a "cool" guy, he almost always uses the direct approach which most of the time fails.
Maka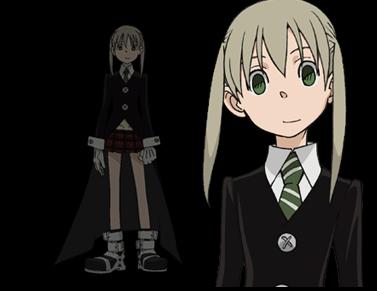 Maka is Soul's meister. She is the more level-headed of the two but when her anger gets the better of her, she will put her foot down. Where Soul seems to be the brawn, Maka is the brain. She always tries to think of a way to beat their opponent by exploiting the opponent's weaknesses. Her father is the Shingami's (Death) current death scythe, she seems to hate her father for constantly flirting with other women.
Black Star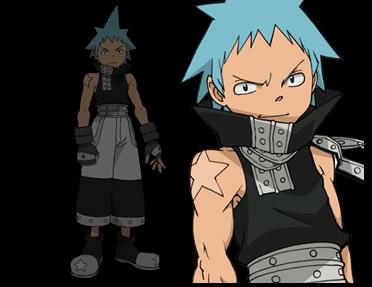 He is Tsubaki's meister. He comes from a family of ninjas (The Star Clan), which explains the star on his shoulder. He uses ninja tactics. His biggest weakness is that he is a total show-off and thinks that he is some kind of star. Black Star hates it when someone gets more attention then him and will show them who the real star is.
Tsubaki Nakatsukasa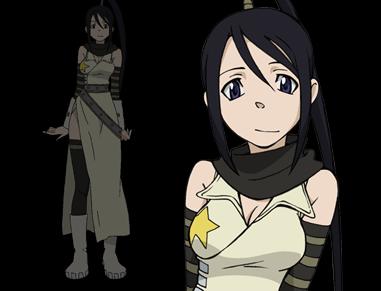 She is Black Star's Dark Demon Blade partner. She can change into multiple ninja weapons (shuriken, smoke bomb, a katana , etc). She is most of the time disheartened by Black Star's loud self but she still puts up with it because that is what she likes about him. She has a very forgiving personality and always tries to help everyone even when she has no idea how to help.
Maka's Dad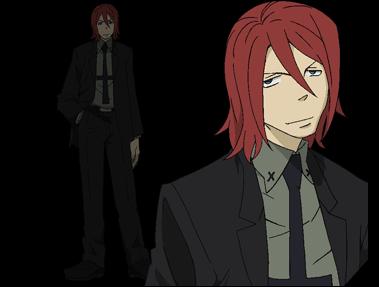 He is the Shinigami's current weapon and Maka's father
. He is very protective of Maka and is ready to jump to her aid any time she is in trouble (he is always stopped by the Shinigami). His wife is Maka's mother but they are divorced now due to his constant flirting with other woman. Even though he visits clubs, he is still insanely loyal to his ex-wife and daughter. He usually runs yelling about how much he loves Maka and her mother (he calls Maka's mother Mama).
Death (Shinigami)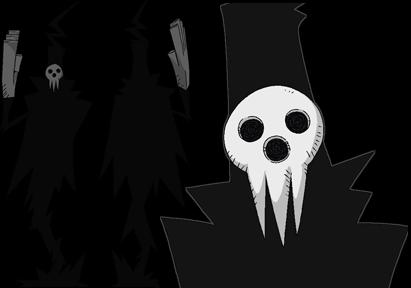 He is by far the most powerful character in the series. He is a bit of a joker but when the time comes, he's all business. His number is 42-42-564 (shini-shini-goroshi), which literally means die-die-kil in Japanese. He has a special move called a "Direct Noggin Shinigami Chop" (which is normally shown when the Shinigami shows his hand, which is a large flat four fingered hand appearing from his robe.)
Now This is just funny.