Yes, I'm anti Miley. But if your going to complain and call me names, go ahead. I will still hate Miley and now you. Don't say I'm jealous of her because you think she is pretty. I'm not. I just don't like her and that's an opinion that I will always stick with. Let's say that you don't like most popular person at your school. Are you jealous of her? Umm... no! You just don't like her. And that's exactly how I feel about Miley. Don't say I'm wasting my time writing this crap. That's my choice! Besides, if you like her, why are you wating
your
time here?!? If you want to know why I hate her so much, just keep reading.
She wears mini skirts on stage. Yes, they are in style, but she mostly only wears them to win back Nick Jonas. Well he doesn't want her. He just wants to be friends with her, and she wants to be more than that. That explains why wasn't Miley in the Jonas Brothers' new song,
Burnin' Up
. Selena Gomez was in it, not Miley. Anyways, ppl are saying that Miley's new song,
7 Things
and
Breakout
, were about her ex, Nick Jonas. I'm not saying that it's true, because it probably isn't. I'm not sure, but thats just what I heard. Maybe it was an opinion or someone trying to start a new rumor about her and make her life worse. I just read it in a comment on a youtube video of her song,
7 Things
. Don't think it was me. Have you noticed that all her mini skirts are plaid? And she wears long socks with stripes the same color as the skirt. Little girls are going to want to wear them too. Isn't Miley the best role model? Not!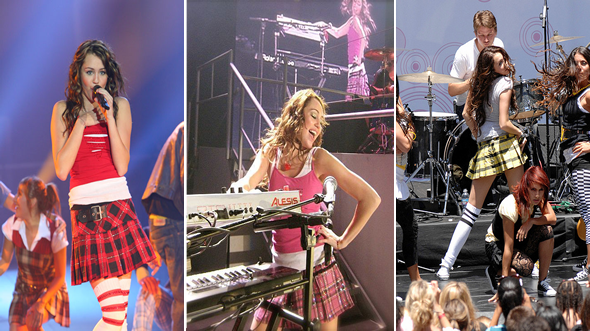 She takes half naked photo's of her. For who? Nobody knows! They were hacked off her phone. But the point is that a celebrity like Miley who has little girls looking up to her shouldn't even be thinking of doing something like that. She has a bad reputation for it and it screwed up her life. I know that she apologized and yes most ppl forgave her, but she keeps doing it! Ppl will get sick of it and she won't be forgiven. She can get kicked off of Disney Channel for that. It won't make me happy if she does. I don't really care because I don't even watch Disney anymore. Older celebrities that are like in their 30's don't even do that. Which does not include stupid weird trashy junkie slutty Britney Spears! Ew!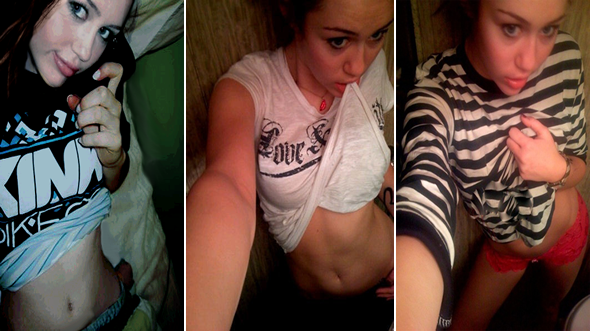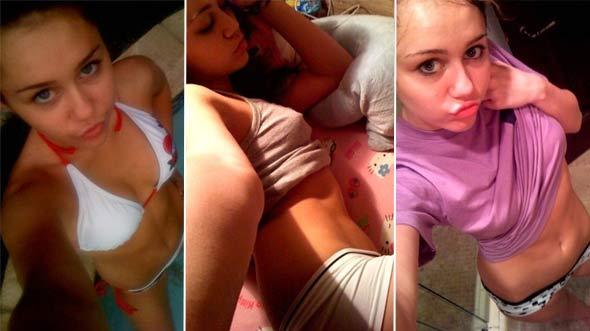 Eww! Have you seen her teeth? I know that's not important, and I know she does have braces. She has the ones that go behind your teeth other than the front. That's what people are saying. Even though she uses them, I haven't seen much improvement. And she's had them since July 2007!